Excellent Products, Superior Service in Rogers, MN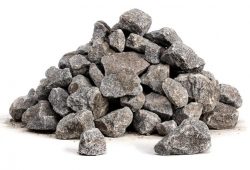 Hassan Sand & Gravel, Inc. strives to provide excellent service and superior landscape and aggregate materials for homeowners, businesses and contractors in Rogers, Hennepin County, Minnetonka, Minneapolis, and St. Paul, MN, with highly competitive pricing that assures you get the most for your money. We're the premier choice for rock, mulch, topsoil, and sand delivery in Hennepin County, MN & throughout the Twin Cities metro & greater metro area!
Best-in-class products
Our selection of products in stock is one of the largest in the area! We stock more than 100 different products, including more than 40 different sizes and colors of decorative rock and boulders.
We also carry fieldstone, limestone, granite steps, natural quarry wall stone, edgers and flagstone, alongside numerous types of driveway aggregates, including recycled concrete and asphalt products, pulverized and screened topsoil and garden mix, colored and natural shredded wood mulches and chips, rubber mulches & landscape products, synthetic turf products, fine mason sand, washed coarse sand, washed rock, fill sand, clay, and sand/topsoil/compost blends. For your convenience, we also carry a large selection of landscape supplies including plastic and steel edging, poly, several types of landscape fabric, drainage supplies, grass seed, silt fence, erosion control straw blanket, bagged compost, polymeric sand and more. Clean concrete and asphalt rubble is accepted for recycling at our pit.
Wondering how much mulch or rock you need for your project? Check out our Product Coverage Chart to estimate how much you'll need to order!
In the winter season, we stock salt/sand mix and straight, pre-treated de-icing salt.
We even offer the option for contractors to call us during business hours or email us to obtain an after-hours phone number for salt/sand mix and salt loading!
A dedication to our community
Our business is second-generation, family-owned and employs 15-20 people during the construction season. We are proud of our reputation of honesty and integrity, and we will continue to work hard to earn that reputation.
Hassan Sand & Gravel, Inc. proudly supports local communities in many ways. We are a charter member of the I-94 West Chamber of Commerce, as well as several other civic organizations. We encourage you to check our reviews and with the Better Business Bureau before doing business with us to see for yourself the type of business we are and the reputation we've worked hard to build for ourselves.
---
Whether you need assistance finding the perfect decorative rock for your landscaping project or you're seeking a reliable source for salt and sand delivery in in Hennepin County, MN and throughout the Twin Cities metro & greater metro area, know that you can always trust us. Contact us today at 763-428-2393. for more information.